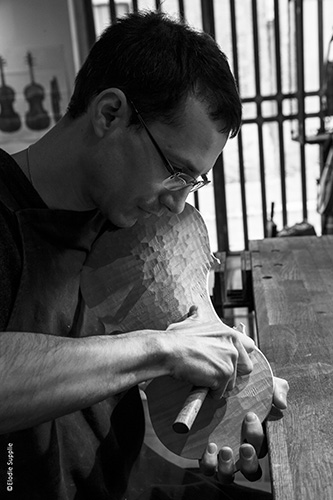 Yann Poulain graduated in 2001 from the Newark School of Violin Making in England. Then he devoted himself to the making of fine violins, violas and cellos. He established his workshop in Montpellier in 2007 in the historic city centre. His instruments are played by musicians in both Europe, Asia and the United States of America.
Its production is inspired from the cremonese Masters of the 17th and 18th centuries . In order to produce the best sounding instruments and monitor consistency in the tone production, its making process is done and controlled entirely by himself from the choice of the wood to the cooking of the varnish in the purest tradition of the cremonese know-how at the Renaissance time .
Inspired by the rediscovery of lost knowledge, Yann is doing researches since 2003. He exposes his findings at conferences including "the mystery of the Ventral Pin" in 2008 at the Stradivari exhibition in Montpellier, Fabre County Museum, and publishes articles in "The Strad" magazine. Yann is member of the VSA, ALADFI and AIMM. With his collegues, he is actively participating in the local music life organizing concerts, exhibitions, music academy…
The mastering of its know-how was recognized in 2013 by the "Chamber of Trades and Crafts" with the "Excellence Artisanale" prize.
Other prizes: 1st Viola sound, Fete des luthiers, Montpellier 2011 – Merit for sound quartet, VSA 2012 – Viola sound, Viola's, Paris 2014